What is a Rain Garden?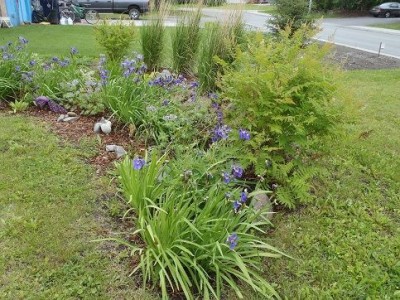 A rain garden captures rainwater from roofs, driveways, sidewalks, or other hard surfaces and diverts it into a depression in the landscape where it can slowly soak into the ground. Rain gardens filter contaminants and stormwater runoff and help improve water quality by allowing the water to naturally filter through soil and slows down the rush of water from impervious surfaces.   This helps to keep reduce contaminants that end up in our streams, lakes and ponds.   They are simple and effective way to enhance water quality and control storm water during rain events.
How can I find more information?
There are numerous resources available to help you learn more about the benefits of rain gardens, and where and how to build one.   The Municipality of Anchorage has a program that will reimburse you for half of the cost to build a rain garden or other low impact development technique (up to $750 for residential, and up to $5,000 for a large installation).   You can apply for the  reimbursement program on-line and set up an appointment with their staff to do a site visit, who will then work with you to design and build your garden through the completion of the project.   Alternatively, you can use their detailed manual to build one on your own (see Anchorage Rain Garden Manual).   Their website has many other helpful resources such as an introductory brochure, a "How To" page and photos, costs, and a map of demonstration gardens in Anchorage that you can visit yourself.
There is also a Green Infrastructure Guide available for Fairbanks, as well as one specific to the Matanuska-Susitna Borough.   These manuals and websites include similar information to the Anchorage site.
Other resources include: