Are you limited in available space to plant a garden, but still want to grow your own fresh veggies, fruits, and herbs? This book can help.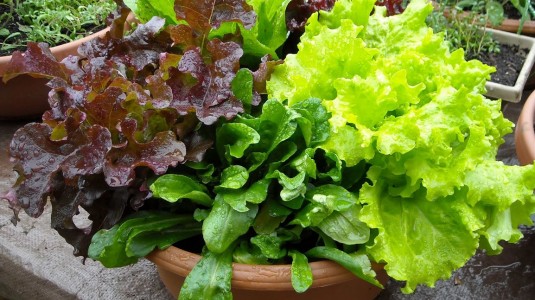 Crops in Pots by Bob Purnell, describes how to plan, plant, and grow vegetables, fruits, and herbs in easy-care containers.
Book Overview
The book is broken into three main sections: starters, main courses, and desserts. In all, it presents 50 specific project ideas describing how to grow fruit, vegetables, and herbs in various containers. Each of these 50 projects includes a list of equipment and plants that will be needed, step-by step planting instructions, a photo of the finished project, and a recipe that uses one of the plants you grew.
The Introduction of the book provides advice on choosing, siting, and grouping containers, how to choose potting mixes, and step by step instructions and photos showing how to plant pots and hanging baskets. It describes how to grow plants from seed and other propagation methods. It provides advice on general care including identifying, avoiding, and controlling pests and diseases, how to prune and deadhead, and techniques and advice on watering, mulching, and fertilizing your containers for best results.
Finally, the last section of the book, called "What to Grow" lists and describes a number of vegetables, fruits, herbs, and edible flowers that are most likely to be successful in containers. This section gives the reader the opportunity to design their own planting scheme by mixing and matching the plants listed in this section, and to choose those most suitable for their local environment.
Ideas for Container Gardening
Although this book is not specific to Alaska, it provides some wonderful, and beautiful ideas for using containers. It also describes the many benefits of growing foods in containers, such as the ability to expand the variety of plants you will be able to grow by being able to customize and more closely monitor growing conditions. For example, you can more easily customize the soil (e.g. create acidic soil conditions if you want to grow blueberries), and can more easily regulate optimal water and light conditions.
Containers also have the benefit of being portable, so that you can place them close to your house so they are convenient to care for, or can be easily moved, re-arranged, or grouped to the most optimal conditions for growth.   Controlling or spotting pests may be easier because containers are often less likely to be attacked. And because they are at eye level, pests may be spotted more quickly than if they attack a large outdoor garden.
This book is a great reference and resource to try new combinations of edible plants together in the same pot.
One of my favorite projects – because I love Italian food- is called "Pasta and Pizza Pot". In a single large container a dwarf bush tomato plant is surrounded by a mixture of oregano and Marjoram of various leaf colors (golden curly, gold-tipped, and variegated) that give it color and texture. Cut-leaved arugula is planted between the other plants and has attractive yellow flowers. From this pot there are many delicious foods you can make, such as a Pizza Napoletana, which uses fresh oregano and tomatoes.
Another project that is both a colorful and an interesting display, and provides a worthwhile crop is the "Super Salad" project. This container is filled with a block of carrots in the center, surrounded by beets and lettuce around the edges.   The contrasting textures, colors, and shapes of these plants are both aesthetically pleasing and provide the base for a great tasty salad!
"Crops in Pots" provides creative and detailed descriptions of how to grow beautiful edible plants in boxes, hanging baskets, and pots all year long. These planter ideas are perfect for small spaces while providing ideas to brighten up your home or patio to create attractive, flexible, and delicious crops.
For free information on how to choose vegetable varieties that should be successful in a Southcentral Alaska garden, download the pdf article from the Cooperative Extension Service titled "Recommended Variety List for Southcentral Alaska", Publication Number: HGA-00031
For vegetable varieties that should be successful in Interior Alaska, see: Recommended Variety List for Interior Alaska, Publication Number: HGA-00030