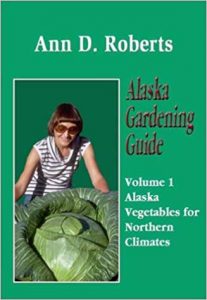 When we bought our first house in Fairbanks nearly 20 years ago, I wanted to have a garden but really had no idea what would grow successfully, or how to grow vegetables in our climate. I was moving from the Pacific Northwest and was looking for information specific to growing in the Interior, at a time when accessing information on the Internet was not as easy as today, and was still dial-up at the time. Somewhere in town I picked up the Alaska Gardening Guide, Volume 1, Alaska Vegetables for Northern Climates, it was my first garden book purchase, and it is still my go-to every year. Anytime I think can I grow that here? I get out this book first to see what it says about it.
I sometimes find it frustrating to find resources specific to Alaska, because it is a unique climate and even within the state there are many differences between climates and growing conditions. A generic garden book that is not specific to Alaska may not lead to the success you are looking for. The Alaska Gardening Guide, is a great comprehensive guide for growing in cold climates that is well researched and specific for Alaska and for different growing conditions within Alaska. It is a useful resource for everyone gardening in Alaska and is as applicable to novice gardeners as it is to very experienced gardeners.
The book covers planting basics, specific problems for the various areas of Alaska and how to overcome them as well as a guide with specific tips for growing different vegetables in Alaska, resources for seeds, storage of vegetables and even putting your garden to bed for the winter. The book is divided into three sections. Part 1 covers Alaska garden basics with topics that include sub-arctic growing, soil improvement, and starting seeds. Part 2 Beyond the Basics covers Alaska insect pests, plant problems, and cold or wet soils to name a few. Part 3 covers plant specifics for many vegetables.
I like to try growing something new each year, and have found the section on growing specific vegetables to be very useful, and I have referenced it many times over the years. I have also found the information on soil warming techniques, such as raised beds and plastic mulch, to be essential to successful gardening in Alaska.
The author does have a website that includes an index of content that can be found here.
There are Recommended Alaska Cooperative Extension Variety Lists for Interior, Southcentral and Southeastern Alaska available here as well as many other gardening resources for Alaska