Gardens Thrive in Hardiness Zone 1b
Between the beginning of June and end of August, the village yards sport beautiful lawns, flower beds, hanging baskets, a variety of imported landscape trees and bushes, vegetable gardens and strawberry and raspberry patches. People in McGrath like the challenge of growing plants here in this layer of warm yet damp soil on top of permafrost.
Micro-climates
The local weather service is in the "downtown" area. Generally the temperatures that they announce run about 3 degrees warmer than the temperatures that we are recording only 1.5 miles to the southeast of downtown.
The following data about McGrath temperatures and rainfall was gathered from 1981 until 2010 by NOAA.
| | | | | | |
| --- | --- | --- | --- | --- | --- |
| | May | June | July | August | September |
| Average Daily Temperature ( °F) | 46.7 | 57.4 | 60.0 | 54.6 | 44.6 |
| Average Daily Maximum ( °F) | 57.3 | 68.1 | 69.3 | 63.4 | 53.1 |
| Average Daily Minimum ( °F) | 36.1 | 46.7 | 50.7 | 45.8 | 36.1 |
| Average rainfall (in.) | 1.09 | 1.52 | 2.38 | 2.80 | 2.49 |
The Local Dirt
The natural soil elements available in the area are sand and peat. The peat is very acidic and usually found on river cutbanks during the summer. The sand is found along the riverbank as well.
Sand from the river's edge has been used as fill on lots where buildings are constructed. First the moss and trees and bushes are scraped away so that the permafrost is revealed and the sun can thaw it a bit. Then truckloads of sand are hauled in, dumped and graded and packed down on top of the soggy soil. So when a house goes up, the yard is usually comprised of river sand. A lot of organic material is required to improve the soil enough for a thriving lawn and garden.
There are black spruce trees in the area with a lot of fungus under the moss and among the tree roots. I'm not sure yet how to use that when I find it on the forested edges of my cultivated yard. But I'm not as eager to destroy it as I used to be, having read about the soil food web.
A lot of soil is shipped to McGrath in bags, especially when folks begin the transplanting of starts that were planted inside homes around March or April. A lot of people have compost piles, some compost with worms and quite a few people keep animals (rabbits, chickens and goats) and use their manure on the gardens.
It's a Challenge
One of the biggest challenges is to get enough organic material in the soil. Compost piles work eventually. Worms produce great castings in small amounts. These supply a powerful contribution, but in small mass. Another challenge is to keep the moose away from gardens until harvest and to keep them from destroying landscape trees and bushes.
Sudden temperature drops can sometimes pop up in the middle of summer so it is necessary to always watch the forecast, in case the plants need to be covered that night. Even though it might not be too cold, gardens can suffer from quirks of the weather. One July 4th in the '90s, we had a hail storm!
Here are the temperatures from the Freeze/Frost Occurrence Data. These were recorded between 1971 and 2000 for McGrath:
| | | |
| --- | --- | --- |
| 32 °F is used here to determine frosts. | Probable Growing Season (90% probability) | Possible Growing Season (10% probability) |
| Date of First frost | 9/15/2018 | 8/19/2018 |
| Date of Last frost | 5/8/2018 | 6/2/2018 |
| Freeze Free Period | 84 | 47 |
| When day lengths are longer than 12 hours | Date March 20, Spring Equinox   – days getting longer from this date | Date September 22, Autumnal Equinox – days getting shorter from this date |
Benefits and Blessings
There is such a sense of success, a sense of 'beating the odds', when plants produce and thrive in spite of the adversities. The plants grow big and lush in the long and warm sunny days. The flowers are each prized when they finally bloom after all that waiting and hoping and effort. People always seem to grow too much for themselves so there is an abundance of cabbage, cukes, zukes, carrots, onions, etc. being shared in the village in August, September and the months that lead into winter.
Summary
The small community makes for a quiet, peaceful gardening experience. . .if the neighbor's dog isn't barking incessantly that day! I can also collect as much rainwater as I want and dispense it as I please in this 'off the grid' community. There are not yet any laws about not collecting rainwater here!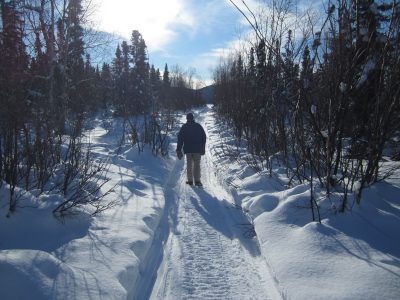 These photos show two seasons on the same trail in McGrath. The scenery of the summer picture lasts for about 4 months and the scenery of the winter picture lasts about 6 months. In between there are vibrant light green leaves budding and expanding or   blazing yellow and red leaves falling.
This trail cuts through a lightly forested area of birch and white spruce. There are some black spruce, alder and a lot of different types of willows. It is great moose browse so we often have to wait for them to move on when we need to use the trail too.