It may seem that growing a garden in Interior Alaska is very challenging given the extremes in our temperatures. However with the proper varieties of plants and gardening techniques, combined with our long days of sunlight and warm summer temperatures, gardens thrive.
The USDA growing zone in my north Fairbanks area is Zone 2b, it is a short season, so any techniques to lengthen the season and warm the soil can make a huge difference. Although we have long days of sunlight here, I do struggle with getting enough sun since my garden is in the middle of a birch forest. Then there are atypical summers that can be very cool or wet which stunt plant growth, resulting in poor yields. Sometimes long stretches of hot weather cause plants to bolt, or cook in the greenhouse. Oh and then there is the periodic moose who got in and ate everything because someone (not me) left the gate open. We all have our challenges.
Selecting vegetable varieties that have been tested and recommended for Alaska is also essential to success. Many popular vegetables will not tolerate our long days and cool soils, and many of the seeds available for sale in Alaska are not adapted to the growing conditions here. You can find a list of recommended vegetable varieties for Interior and other areas of Alaska here
Growing through plastic sheeting or in raised beds can help warm cool soils. Season extenders such as row covers, cold frames, greenhouses, high tunnels and hoop houses are some of the options to lengthen our growing season. These can be extremely helpful for those plants that require a bit more warmth or growing time than we have naturally, and to prolong the harvest period to make the most of our short growing season.
Improving the soil, and controlling pests big and small will also improve crop yields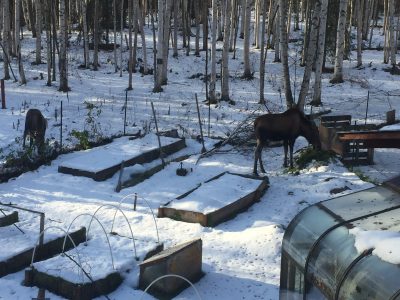 Normals for years: 1981-2010
USDA Plant Hardiness Zones: 2b
| | | | | | |
| --- | --- | --- | --- | --- | --- |
| | May | June | July | August | September |
| Average Daily Temperature ( °F) | 48.5 | 59.3 | 61.6 | 55.2 | 43.9 |
| Average Daily Maximum ( °F) | 60.5 | 71.0 | 72.4 | 65.5 | 54.0 |
| Average Daily Minimum ( °F) | 36.4 | 47.7 | 50.8 | 44.9 | 33.8 |
| Average rainfall (in.) | 0.64 | 1.76 | 2.34 | 2.08 | 1.31 |
| | | |
| --- | --- | --- |
| 32 °F is used here to determine frosts. | Probable Growing Season (90% probability) | Possible Growing Season (10% probability) |
| Date of First frost | 8/19 | 9/18 |
| Date of Last frost | 6/1 | 5/6 |
| Freeze Free Period | 86 | 126 |
| When day lengths are longer than 12 hours | 3/20 | 9/23 |