by Mary Hinkley, an Alaska Master Gardener
In my short gardening career I've found some plant varieties I really like and some I don't think I'll try again. Following are some of my favorites, with notes about which worked best in a greenhouse or in my garden in Tok, AK.

Savoy Cabbage. Photo by Mary Hinkckley.
Savoy Cabbage

Last year a friend of ours gave us some Savoy cabbage she had grown. I liked the look of it and when I cut it open I knew I wanted to grow it myself. It was full and firm and wonderful to cook with. I only had one head and that went quickly so I don't know how well it stores.
We grew our own this year and I just cut one of my biggest heads, fearing it would not be good by the time I got around to it. After the outer leaves were clipped, it wasn't quite as big as I thought so I'll let the others stay where they are for awhile longer. Though small, the one I harvested is as lovely as the one I remember. Good flavored, we'll see how it stores.
Merlot Lettuce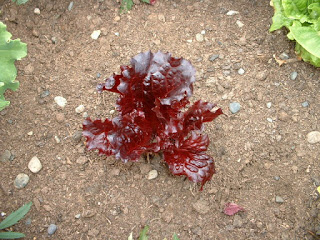 Merlot Lettuce. Photo by Mary Hinckley.
Merlot lettuce is new to me but I like it very much. It is beautiful, as richly colored as it sounds. An earlier crop was started in the greenhouse and it didn't get nearly as vibrant. When I saw this outside I vowed not to plant much merlot, or any lettuce in the greenhouse again. I've found that lettuce loves the outdoors. I do like the greenhouse for the first crop, but as soon as I can I'll plant it outside. Merlot is very compact and has a very pleasant taste.
Black Beauty Zucchini grown in a greenhouse.
Black Beauty Zucchini
Frost nipped Squash. Photo by Mary Hinckley.
Black Beauty zucchini is a hit. This too was planted very early in the greenhouse. I planted several young plants close together, not wanting to waste space. They grew quickly and began to choke each other out. Two beautiful zucchinis developed then blossom end rot ruined every succeeding one. They needed more air circulation in the greenhouse, and were way too crowded. So I whacked a few plants, which wasn't as easy for me as it sounds. I cut off the dead and unhealthy parts of the remaining ones, and let nature take its course. Three healthy, productive plants were the result.
I began to think zucchini would fare better outside, but I'm glad we planted some inside. We've had a cool season here, making the going rough for outdoor zucchini. Ditto for beans. I'm glad for the few plants we started in the greenhouse because the outside ones were hit twice by frost. The first time we clipped the damaged parts off and they recovered but I don't think they have time to do again. At this point I believe the greenhouse is the place for both zucchini and beans, at least it was this year. Black Beauty is a good grower under the right conditions and has a traditionally mild zucchini flavor.
Boston Pickling Cucumbers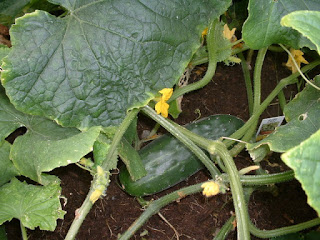 Boston Pickling Cucumber. Photo by Mary Hinckley.
We planted Boston Pickling cucumbers and by mid July I'd already made a batch of bread and butter pickles. At first I thought these cucumbers were exceptional, but when I later added a few more plants of another variety in the greenhouse, I found they did just as well. So I'm not endorsing any particular variety of cucumbers, but in general, they just love to grow! The ones we grew are firm and crunchy when fresh, and hold up well as pickles. Their taste is mild.
Calabrese Sprouting Broccoli

Our broccoli of choice this year was Calabrese Sprouting, and it truly lives up to its name. It took me awhile to warm up to this variety; at first it was rather annoying. I was not used to sprouting broccoli, I don't know what I was expecting, but this was very new. Once the main head is taken, the plant continuously produces several small sprouts as long as they are harvested. I now rather enjoy this variety. From my small broccoli bed I can collect a head of broccoli every few days, already in bite sized pieces. It is very tender and tasty. The plant is hardy and long lasting.
Sugar Snap Peas

We grew Sugar Snap peas for the first time and are bound to do it again. When freshly picked, these peas are a treat that makes any reason to be in the garden more pleasurable. Sweet and crunchy, they don't lose their flair when cooked. It's a good thing they're so prolific. We planted these in late May and they took right off. They weren't daunted by the two frosts we've had and it looks as though they'll produce as long as we harvest, right up until the freeze. These climbers lean over our four foot trellis so next year Snooks will raise it to six feet.
Rhubarb

I have to mention rhubarb. It is perhaps the easiest and hardiest crop that grows here. Providing three harvests per summer and virtually maintenance free, what's not to like? I don't know much about rhubarb, other than it produces abundantly and is very versatile in the kitchen. Ours is green and other than the color and that it lays a little lower as it grows, I think it's much like the red variety. It tastes like rhubarb to me. I never knew there were differences until they were pointed out to me this year. Red or green, rhubarb is like an old friend, constant and dependable, and I enjoy having it in our garden.
Our entire garden has been amazing this year, but the above plants are standouts. Discovering what works will reduce the guesswork in future garden planning.
Although I enjoy looking through seed catalogs, choosing without a personal reference point can be daunting. The Alaska Master Gardener Online Course provided me with Alaska specific information that saved me years of experimentation. It also it gave me enough direction and confidence to try new things!
Basket of vegetables. Photo by Mary Hinckley
About Heidi Rader

Twitter •