by Mary Hinckley, an Alaska Master Gardener in Tok, Alaska
Garlic growing outside. Photo by Mary Hinckley.
This is the first year we grew garlic. I realized how little
I knew about it when I tried to buy the seed last November. I thought I'd be early
enough to get a good selection for this year but found that I was too late to
get much of anything. I learned that seed garlic is usually only available
between August and September and is often reserved even before the spring
harvest. The seed is sown in the fall, spends about 9 months in the ground and
harvested in the spring. Then it goes through a month of curing before it is
ready for sale. Wow. I was able to purchase three types of seed, though, German White, Nootka Rose, and Elephant,
all from different sources. The ground was frozen by the time I received the
garlic so I stored it under our house to be planted on the spring. None of my
suppliers could guarantee whether a spring planting would work here or even if
the seed would last in our 48-degree crawl space to plant. We decided to take
our chances.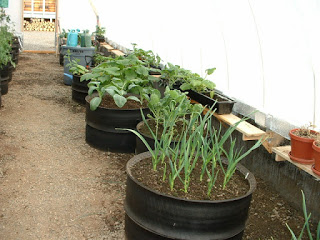 Garlic growing in a greenhouse. Photo by Mary Hinckley.
Results: German White Garlic
The German White Garlic over-wintered pretty
well but most all the cloves had small sprouts by spring. We decided to take
advantage of this early growth and planted it in the greenhouse as soon as we
could work the soil. The date was April 11th. We kept it watered and within a
few weeks the sprouts popped through the soil. Scallion seeds were scattered
among the garlic and with minimal care it all grew nicely.
By July each garlic plant had formed a scape, a little bulb
of fresh garlic that grows up from the base. We cut these off, as suggested by
the sellers, and used them in cooking. A scape has a mild garlic flavor and is really
easy to work into meals. At this time we stopped watering and the drying
process began.
It's impossible to check on a garlic bulb by looking at the
plant, so when the scapes were taken we also dug up four bulbs to see how they
were coming along. We were thrilled. They were all good-sized and two were
exceptional. When washed and peeled, the cloves looked like pearls. I chopped
them up, threw them in a pot of water and made chicken soup. Apart from the
chicken, all ingredients came from our garden and the soup was divine.
When the garlic plants were visibly dry, we harvested the
rest of the garlic. I used a small planting spade but next time I'll use a fork.
The spade didn't nick any of the bulbs, but I worried the whole time that it
would. The garlic is beautiful. The majority of the harvest seems to be
comparable in size to the seed stock it came from.
Next is the curing stage, where the bulbs dry for storage or
planting. We cut the bulbs about 3 inches up the stalk, put them in onion bags
and hung them to dry in our garage. A
vacillating fan was places in front of the bag to circulate the air. The garlic
swings in the breeze and will be cured in a few weeks. Once cured, some will be
stored under the house for culinary use and some will be separated into cloves
for planting.
Drying the Garlic.Photo by Mary Hinckley.
Results: Nootka Rose and Elephant
Garlic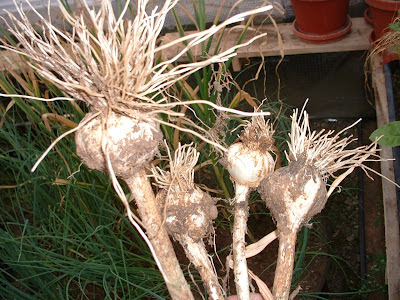 The Nootka Rose and
Elephant seed also survived very well in our crawl space and April 28th we
planted them outside. Theirs were slower starts than the German White, but we dug up one of each in mid-August. Everything
seemed fine but neither variety was ready for harvest. We'll check them again in a few weeks but so
far they're right on track.
Because our first garlic crop has been a success, we plan to
raise it again. Next time we'll plant it outside in the fall and eliminate the
greenhouse crop entirely. We've seen that garlic grows well outside and we're
hoping the fall planting will give it the edge it needs for an earlier harvest.
It is good to know that the spring
planting works here in Tok. We look
forward to further experimentation.
Photo by Mary Hinckley.
Here is a helpful, general guide to growing garlic that is not specific to Alaska: Growing Garlic in New England
About Heidi Rader

Twitter •