What is the Japanese Mugwort?
Japanese Mugwort is a flavorful perennial herb that has green, fuzzy, finely cut leaves. The hardy plant thrives in most climates and is traditionally used in eastern medicine.
I am interested in Asian vegetables and herbs. I have Japanese Mugwort in my garden. I have started this Mugwort from seed. Seeds were bought from Kitazawa Seed Company* and this is the third year I am harvesting. I just harvested this Mugwort and am going to make it into powder and then bake Mugwort bread.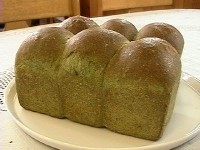 Cultivation Tips
Mugwort needs fertile, well-drained soil. I used mushroom compost and regular potting soil. Sow seeds in spring after last frost in a warm, sunny location and keep soil moist. The leaves and stems are best when harvested young. It is very easy to take care of this plant but it spreads quickly by stolons every year so contain the growing area to prevent invasive growth. It grows very well in Alaska.
Germination Temperature
65-70 °F
Seed Depth
1/8-1/4″
Seed Spacing
4-6″
Thin To
10-12″
Culinary Tips
Mugwort can be used in stir-fries, soups, tea, Tempura and Chinese dumpling stuffing. Also, traditionally prepared in Japan by lightly boiling leaves and pounding them in sweet mochi rice (mochi is also known as pounded rice cakes). Powdered Mugwort can be added to bread, which is popular in Japan.
Food Preparation and Preservation
There are many ways to prepare Mugwort. Using the traditional Japanese way, I am making powdered Mugwort here. It is recommended that Mugwort leaves and stems should be harvested when they are young, before they get a bitter taste and strong smell. It can be harvested until the first flower comes out. When Mugwort stems become hard, only use leaves. After harvested, put it in water and wash it well. Steam Mugwort lightly and put it back in cold water. I recommend drying Mugwort in the net so that it get the breeze and sunshine to dry it faster (see the images below). After the leaves are dried completely, usually three to seven days, you can put them in the blender and make powder. You can also use dried Mugwort as tea. Simply boil dried Mugwort in a tea bag or use powdered dried Mugwort. Powdered Mugwort can be stored for a long time in a dark, dry place.
Medicinal
It is good for stomachache, purging the stomach of impurities, diarrhea and anemia.
It is good for people who have a cold constitution.
If you soak in a bath with the leaves, it is good for healing hemorrhoids and for backache.
Resources
1. *Kitazawa Seed Company: https://www.kitazawaseed.com/index.html

The oldest seed company in America specializing in Asian vegetable seeds.
The following websites are not talking about Japanese Mugwort, but it gives you the general information about Mugwort.
2. Wikipedia: https://en.wikipedia.org/wiki/Mugwort
3. Cornell University Cooperative Extension Nassau County: ecommons.cornell.edu/xmlui/handle/1813/42526
5. New Jersey Agricultural Experiment Station: https://njaes.rutgers.edu/weeds/weed.asp?mugwort