The Jensen-Olson Arboretum  in Juneau, Alaska
A Gift For The Senses
It is a gorgeous day in Southeast Alaska and I am heading to The Jensen-Olson Arboretum for some much needed "garden therapy." I drive on Glacier Highway past mile marker 23 and make a left onto the small parking lot, get out of the car, take a few steps and WHOA!– I am greeted by an explosion of fragrances, textures, flavors, and colors bursting out of 1.5 acres of carefully tended, pure waterfront magic.  
I stop, breathe in, smile, breathe out, my whole body basking in beauty: AMAZING! I take a few more mindful steps and stop again, gently turning my head from right to left and from left to right, taking in the fruitfulness of the landscape under the shimmering summer light: FANTASTIC!
As I walk the grounds, I see that the flowers are teeming with happy bumblebees (Bombus spp.) and flower flies (Syrphidae)… I even see a couple of butterflies fluttering around Bee Balm (Monarda didyma) and a hummingbird nectaring on red columbine (Aquilegia formosa): pollinator haven, WHAT A TREAT!  
Overflowing with excitement,

I enter

This garden of abundance
But how did Juneau's best-kept secret come to be?
Unique Geography
Nestled in a south-facing cove on Pearl Harbor, the Arboretum is a 14-acre jewel of great beauty adorning Juneau's awe-inspiring landscape. Its unique geographic location creates a micro-climate favorable for gardening. Precipitation is lower than in the rest of Juneau, warmth increases as the sun reflects off the sheltered water, and the soil offers about 3 inches of organic matter over well-drained beach gravels. All these factors result in optimum growing conditions for trees, vegetables, and flower beds.
This historic site is one of the earliest gardens created by Westerners in the Juneau area and it has been in continuous production since first homesteaded by German immigrants at the turn of the twentieth century.
A Dedicated Master Gardener At Work
Fellow Alaska Master Gardener Caroline Jensen created this secluded oasis over 55 years of painstaking work. Born Caroline J. Hoff on February 27, 1917, in Eureka, California, she moved to Juneau in 1947 following a job transfer with the United States Geological Survey. She married Carl W. Jensen in 1951 and lived on the property that was to become the Arboretum until her death on February 21, 2006.
"The vision of the Arboretum," she said when she bequeathed 14 acres of her property to the City and Borough of Juneau in 2006, "is to provide the people of Juneau a place that both teaches and inspires learning in horticulture, natural sciences and landscaping—to preserve the beauty of the landscape for pure aesthetic enjoyment—to maintain the historical and cultural context of the place and its people."
A year later, the Jensen-Olson Arboretum opened its doors and, at 10 years of age, is considered to be the youngest public garden in the great State of Alaska.
A Place Of Quiet Beauty
The promise of a seed, the miracle of a sprouting plant, the majesty of a tree, the beauty of a blooming flower… gardening provides endless opportunities for creativity and self-expression. It also allows us to understand the impermanence of all things and the cycles of life, death, and rebirth. Those of us who practice mindful gardening find beauty in nature and feel a deep connectedness to the earth. We also slow our lives long enough to stop, breathe, smile, look carefully, observe minute changes and tiny details, taste the bounty of Mother Earth, and appreciate the fragrance of fruits, vegetables, and flowers, as well as the fauna that surround them.
"What more could you ask than just a little land,

the blessings of nature,

good health and

the willingness to enjoy the garden way of living.'

Caroline Jensen, February 18, 2006
Flowers
The grounds have a mix of native and introduced species, with a mature forest as a backdrop. Flowers of all shapes, colors, and sizes welcome you with open arms. Among my favorites: fragrant roses (rosa), colorful red columbine (Aquilegia formosa), wondrous opium poppy (Papaver somniferum), breathtaking common foxglove (Digitalis purpurea), contrasting Cape Daisy (Astra white), luminous Great Masterwort (Astrantia major), eye-catching Maltese Cross (Lychnis haageana), texture-rich Meadowsweet (Filipendula ulmaria), stunning Dahlia "Mystic Illusion" (Dahlia), showy Bee Balm (Monarda didyma), and, of course, Caroline's favorite, the delicate primrose (Primula spp.).
Primula, The Capital City Flower
The temperate rainforests of Southeast Alaska, with their cool climate and abundance of "liquid sunshine," are ideal for growing primroses (Primula spp). In 2003, much to Caroline Jensen's delight, Juneau adopted the primrose as the official Capital City flower. Nine years later, in 2012, the American Public Gardens Association certified the 200-plus documented Primula species growing in the Arboretum as the "largest collection of primroses in North America."
Arboretum Trees
The arboretum is host to native species such as black cottonwood (Populus trichocarpa), Douglas maple (Acer glabrum), lodgepole pine (Pinus contorta), Sitka spruce (Picea sitchensis), and western hemlock (Tsuga heterophylla), as well as non-native species such as Icelandic birch (Betula pubescens), katsura tree (Cercidiphyllum japonicum), littleleaf linden (Tilia cordata), Marie's apple (Malus domestica), and mountain ash (Sorbus aucuparia).
Tasty Edibles In The Garden
Delicious raspberries, cherries, and currants abound in the orchard. So do asparagus, broccoli, kale, lacinato kale, potatoes, beets, peas, carrots, and garlic which, among other vegetables, thrive in the rich organic matter that has been accumulating here for over a century. Local volunteers lovingly nurture the vegetable garden daily and the fruits of their labor are donated to the Youth Center and the Glory Hole, a local soup kitchen.  
Japanese Garden
Also available is a small but delightful Japanese Garden, flanked by cherry trees filled with bright red tasty treasures that vocal squirrels lay claim to on a daily basis.
Gazebo
A recently installed gazebo allows visitors to sit quietly in contemplation, feeling the sea breeze and listening to the song of the birds, while observing the magnificent views. Here you can easily meditate, taking in the surroundings one breath at a time, while enjoying sparkling waters and tidal pools teeming with life.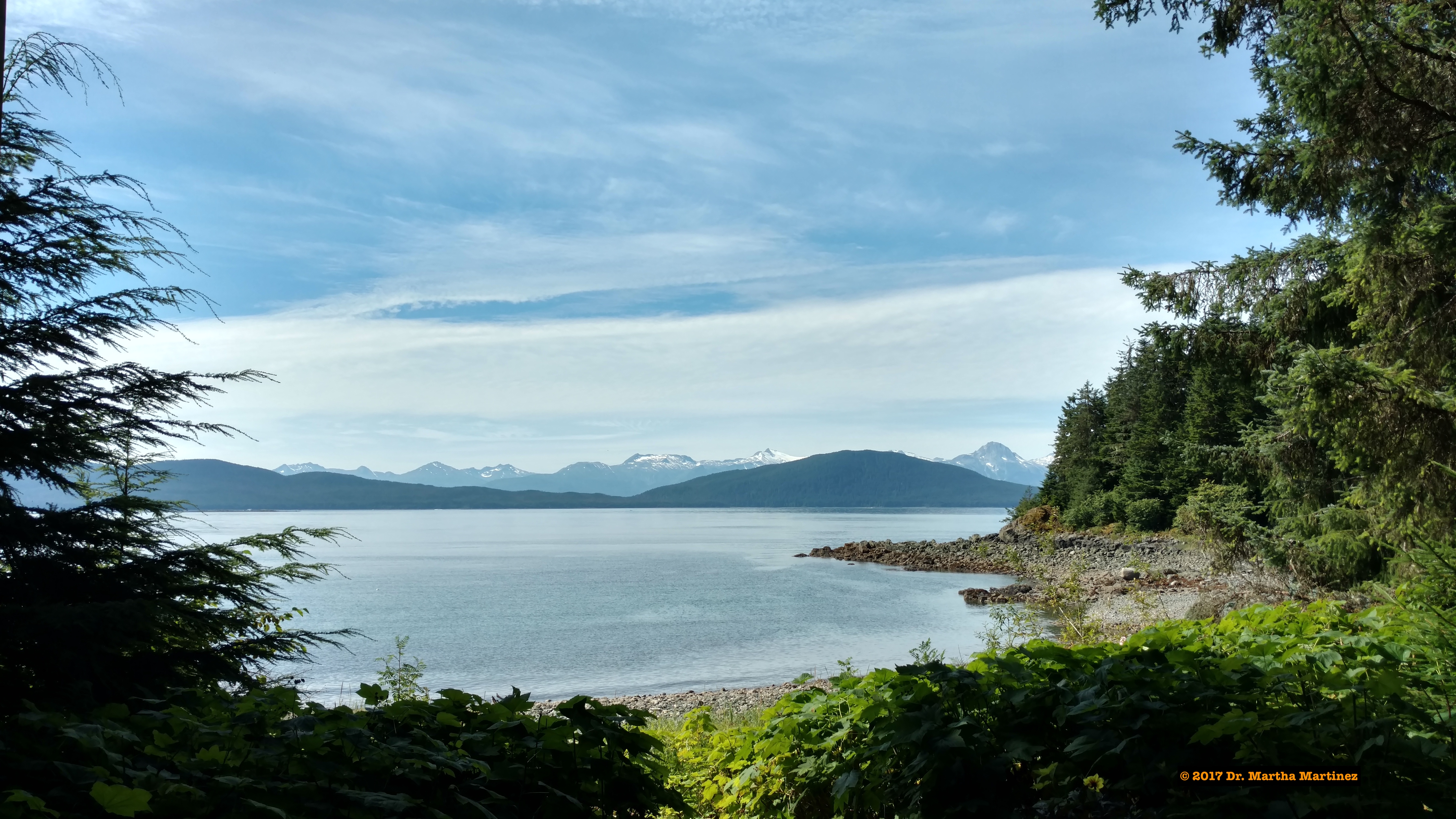 Point Caroline Trail
Visitors can enjoy not only the lush gardens, but also a stroll on the beach, Point Caroline Trail (approximately .2 miles), and Peterson Lake Trail (4.3 miles).
Point Caroline Trail is a short trail, perfect for walking meditation. It takes you through a hemlock (Tsuga heterophylla) forest, past dense copses of rusty menziesia (Menziesia ferruginea) heavily populated with delicious blueberries (Vaccinium spp.), to a cliff-top bench where you can sit and take in the rugged beauty.
Word Garden
A brand new Word Garden, inaugurated for the Arboretum's tenth-anniversary celebration, invites poets of all ages to express their literary creativity in Juneau's four main languages: English, Spanish, Tagalog, and Tlingit.
Every Visit A Fresh Experience
Far from the hordes that descend daily over Juneau's fantastic natural and human-made attractions during the tourism season, inspiration, peace, enjoyment, and learning await you year-round.
Filled to the brim,

I leave

This place of quiet beauty

Promising to soon return
My "garden therapy" session completed, for today… my next appointment already scheduled!
If You Go
Address:
23035 Glacier Highway
Juneau, Alaska
Admission and Hours of Operation:
The Arboretum is open year-round to the public at no charge. Donations gladly accepted.
Wednesday-Sunday, 9:00am-5:00pm
Phone Number:
(907) 789-0139
Directions:
The Jensen-Olson Arboretum is located just past Mile 23 on Glacier Highway (follow green mile markers on the road's shoulder). Just after Mile 22, you will pass the sign for Shrine of Saint Thérèse de Lisieux. Continue for seven-tenths of a mile, passing Mile 23 and look for the Arboretum sign on the left-hand side of the road.
Arboretum Manager and Horticulturalist:
Merrill Jensen (not related to Caroline Jensen)
References And Useful Links
Friends of Jensen Olson Arboretum Arboretum
Jensen Olson Arboretum Facebook  Page
Jensen-Olson Arboretum Website
Traveler's Guide to Jensen-Olson Arboretum
Jensen-Olson Arboretum in Juneau 14 Acres Protected in 1998
Jensen-Olson Arboretum Honored for  Primula  Collection
Jensen-Olson Arboretum Botanical Education Center Brochure
Botanic Gardens Conservation International
Giving garden: Arboretum donated to City of Juneau
Alaska Center for Conservation Science
About Dr. Martha Martinez
Dr. Martha Martinez enjoys hiking, gardening, traveling, teaching, and spending time in nature. She is a seasoned Mindfulness Educator, Gardener, and Practitioner.  She is also a National Wildlife Federation Habitat Steward, University of Florida IFAS Certified Florida Master Naturalist, University of Florida IFAS Certified Florida Master Gardener, University of Alaska Master Gardener in Training, and Tri-County Sustainability Steward. You will not find her online, on Facebook, or on Twitter, but out in nature mindfully gardening or enjoying the trails.
Twitter •