Sitka's climate
Gardening in Sitka's climate presents several challenges. I would have to say too much rain and a lack of sunlight would have to be at the top of the list. We get a lot of rain in Sitka, some growing seasons more than others. Overcast days are plentiful throughout the growing season as well. Overcast days help to give plants a chance to recover after a stretch of constant rain. It's important to give the soil a chance to dry out and become more stable and easier to work with while planting, weeding, or just tending in general with debris removal etc.
The  busiest and most crucial time to ready a Sitka garden is after the last frost in the spring when the soil is tillable (usually around the last week of April). I make sure to get my peas and carrots in the ground first since they are hand sewn. My potatoes that I have in long line tubs, (which are black high density polyethylene tubs), are the next on my planting calendar.
I plant carrots in boxes that I made from 2″ x 12″ non treated lumber that are 4′ x 6′ in width and length. I use boxes for several reasons. The first is due to Sitka's rainy weather, I being able to move my planting boxes to take advantage of sunlight as well as to improve drainage. Sometimes we get monsoon rain! The boxes also make it easy to sift soil which I like to do for my carrots. Larger size stones or twigs/debris might hamper or impair the carrots' growth. Sifting the soil with wire mesh hand sifters that I made is done a lot easier into the pre made planter boxes.
The potatoes that I plant in long line tubs are also strategically placed for optimal sun exposure. I'm not so worried about the rain drowning out the potatoes since they are in the tubs and can/will only allow for so much rain at one time. They are the only plant that I don't worry too much about watering after my initial planting and good dousing on the day I plant them. The only exception to this is if we are so fortunate that we have a week or more of straight sunshine. Then I will check on the potatoes and give them a sprinkle if needed a few times every week and I rotate the tubs 1/4 turn clock wise so the plants will get equal exposure on all sides.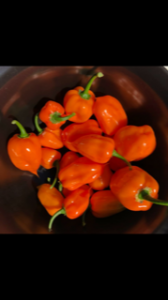 Because of Sitka's wet climate, a gardener has to be aware that certain crops just will not grow here without the aide of a greenhouse. I've found my windows at home do a fantastic job of growing hot peppers though. In fact just this year I tried my hand at growing some habanero peppers. I started with three plants just in case one or more had issues or any accidents I'd have a back up. Well, they all grew to be healthy and produced many scorching hot peppers.
I suppose the biggest benefit of having a wet climate like Sitka would be not having to worry about watering your plants as often as you would in an arid region. Any plants that are out in the open with no type of coverage are sure to get their fair amount of water when it rains. I'm fortunate to have a slight incline on the land my garden is located which helps with watershed when rains are heavy.
Sitka's Garden Climactic Zone
Link to the nearest weather station at  Sitka water Treatment Plant, AK US Elevation 10.7m: https://www.ncdc.noaa.gov/cdo-web/datasets/GHCND/stations/GHCND:USC00508505/detail
Normals for years: 1981-2010
USDA Plant Hardiness Zones: 7b
| | | | | | |
| --- | --- | --- | --- | --- | --- |
| | May | June | July | August | September |
| Average Daily Temperature ( °F) | 47.8 | 52.8 | 56.2 | 57.2 | 53.0 |
| Average Daily Maximum ( °F) | 53.1 | 57.8 | 60.4 | 61.9 | 57.8 |
| Average Daily Minimum ( °F) | 42.4 | 47.8 | 52.0 | 52.5 | 48.2 |
| Average rainfall (in.) | 4.23 | 2.89 | 4.12 | 6.87 | 11.75 |
| | | |
| --- | --- | --- |
| 32 °F is used here to determine frosts. | Probable Growing Season (90% probability) | Possible Growing Season (10% probability) |
| Date of First frost | 11/18 | 10/14 |
| Date of Last frost | 3/30 | 4/30 |
| Freeze Free Period | 176 days | 222 days |
| When day lengths are longer than 12 hours | From 3/17 | To 9/24 |