Mountain View, Anchorage: Garden Climactic Zone Intro
Growing in Anchorage has been simple this summer mainly. In the micro-climate of Mountain View (Zone 4b), the most significant challenges resident gardeners have observed consist of locating the right spot to grow, due to the amount to buildings which block the sunlight from reaching plants. Some residents choose to use containers that make for easy transport and weeding should the chosen location not work out for that year, as seen in figures 1,2, and 3.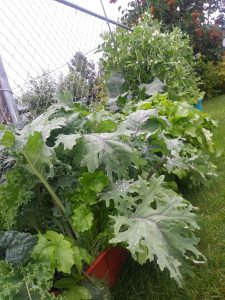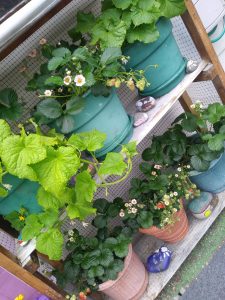 Furthermore, there have been challenges with the rainfall that can cause flooding for improperly draining units, and eventually drown the produce. However, there is often a generous serving of sunlight that helps to even that challenge out. It is safe to say that the trial, no matter what region of Alaska the garden or farming space is in, the obstacles vary down to the most delicate details which is why it is convenient to have the technology available to farmers and gardeners alike.
More Information For a Better Year: Climate Review
Weather Station Location: ANCHORAGE ELMENDORF AFB, AK US USW00026401

Normals for years:   1981-2010

USDA Plant Hardiness Zone: 4b : -25 to -20 (F)
A great example of useful tech would be the satellites orbiting our blue planet. Using the above information residents can determine the following:
Below are two charts (Fig. 5 and 6). The first one shows the averages of Northern Anchorage's weather measured by temperature first and the rainfall. This information originated from the National Oceanic and Atmospheric Association (NOAA). Gardeners can make reasonably accurate predictions for their growing season with information like this once they master how to use it properly.
The second is a color-coded frost table with information from NOAA again. At the very bottom of this post (Fig. 6) is direct from the website to provide readers with a taste of how the information is presented.
Another very handy source is the Sunset and Sunrise data for Anchorage. Nifty information is out there and that is one of the many thing a student of the Master Gardener course through the University of Fairbanks can teach inspired readers.