Choices to be Made: An Introduction
Fast friendly author Julie Montagu, the Flexi Foodie, has several amazing books about superfoods. Superfoods Superfast features 100 energizing recipes to make in 20 minutes or less. As a mother of a rambunctious 3-year-old, full-time employee, student, and homemaker who often takes care of her partners' three children too, this book and style fit perfectly into my life. I find that even with all of the tasty choices that include kale the "Kale and Tofu Scramble" is one I use most often, although the kids would prefer "Kale Mac and Cheese."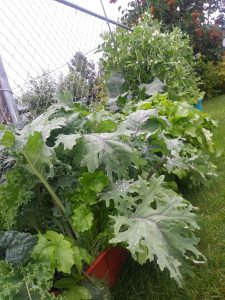 If you're wondering, I focused on kale here because that is something I have been growing the most of in my personal garden over the past few years. The reason I often use this choice is due partly to its simplicity and way of making me feel good. The other part is because I have lots of kale from both my garden and the greenhouse I work in all year long and that I can buy most of the other ingredients from Alaskan vendors. Buying local is very important to my family and me.
How do I do it?: Instructions  
*Warning: My method is slightly different that Julie's.*
Ingredients:  

2 tablespoons of coconut oil  
1 locally grown red onion, diced
500 grams of locally produced tofu, drained and crumbled
1.5 teaspoons of locally grown ground turmeric 
8 cups of locally grown Tucson kale
1.5 cups of pitted olives
Alaska Salt Co. sea salts
Freshly ground pepper
1 avocado, cubed 
5 locally grown cherry tomatoes

Steps:
1) Heat the coconut oil in a large frying pan
2) Through the diced onion into the oil until it begins to brown
3) Crumble the tofu into the pan and use a utensil to mash it further until its decently broken apart
4) Add the turmeric and stir until all the tofu looks like cooked eggs
5) Add the kale while still stirring
6) Once your kale is wilted add the olives and tomatoes
7) Mix well and add sea salt and pepper
8) Top it off with  avocados
Great Way to Start the Day: Conclusion
Typically I use this as a replacement for scrambled eggs in the morning. I do enjoy eggs, so the turmeric added color makes me smile as I eat the savory, kale filled, breakfast. Interestingly enough the author of the recipe says she uses this same meal with corn tortilla for a healthy lunch too. I haven't tried it yet, but I can imagine it being good! If readers try this or have any suggestions on how to improve it, I would love to read them. Though part of the draw for me is the simplicity, I think this could be designed any way to anyone's liking.
Before we're done here, I wanted to communicate a little of why this meal makes me feel good. When I type that I don't just mean it makes me as a person happy, but instead I suggest also that it makes my body feel good. For the readers who don't know, turmeric helps your body fight inflammation, fat tissue growth, Alzheimer's, bowel disease, high blood pressure, and high cholesterol. It also has been known to relieve symptoms of arthritis, stomach aches, cystic fibrosis, and arthritis. It has been linked with helping to prevent some cancers as well and helps promote healthy heart and liver. The kale is another enticing part of this recipe which has anti-inflammatory, detoxification, heart supporting, and vision supporting properties and helps with preventing cancers too.
Here's to a humble way too feel good with good food.