Every summer I look forward to purchasing Alaskan grown carrots when they show up at farmer's markets then local grocery stores. Also, each winter I'm unreasonably sad when the commercial supply of Alaskan carrots is gone for the year! I'm not a vegetable gardener, choosing instead to grow flowers for cutting and arranging in vases. If I ever tried my hand at growing vegetables, I would definitely plant carrots.
It's a funny coincidence that the family recipe I cherish the most is my Grandmother's carrot cake. I have fond memories of helping my mom make this cake for special family occasions, and then making it for my own family over the years. I recently used this recipe for my daughter's 18th birthday cake. It was super pretty until my two large dogs were home alone with it. . .they helped themselves!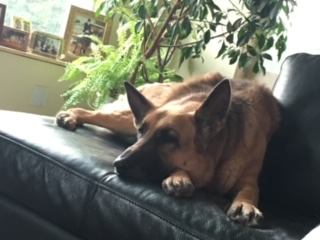 The recipe was brilliantly modified in the 90's by my sister Stephanie. As you can see below she replaced a lot of the oil with apple sauce. This moist, dense cake is full of flavor and especially good with homemade cream cheese frosting,   When my kids were young I would send cupcakes to school so they could share with classmates. I would skip the frosting and label them "muffins" to get past health conscious teachers! This cake is delicious with or without frosting.
Grandma Estep's Carrot Cake
Dry ingredients:
2 cups flour
2 cups sugar
2 teaspoons baking powder
1 1/2 teaspoons baking soda
3 teaspoons cinnamon
1 teaspoon salt
Wet ingredients:
4 eggs, thoroughly mixed with fork
1 cup apple sauce
1/2 cup canola oil (*originally 1 1/2 cups!)
2 cups shredded carrots
1 small can crushed pineapple
*Optional – 3/4 cup pecans
Mix dry ingredients thoroughly in medium sized bowl. Use slotted spoon or sifter as needed. Mix wet with dry ingredients together until just incorporated.
Pour batter into cake pans prepped with oil and flour coating or cupcake tins with metallic cupcake papers. (The heavy nature of this cake saturates regular paper liners.)
Bake at 350 degrees F for 35 to 40 minutes or until a toothpick inserted into the center of the cake comes out clean. By clean, I mean no batter, but tiny cake morsels are fine. Cupcakes take much less time, approximately 15 minutes for approximately 28: check with toothpick.
Allow the cakes to cool in their pans for ten minutes then turn out onto cooling racks. To successfully  get this cake out of the pans I always have to use a spatula around the edge of each pan and even tap on the bottom of the pan; patience is needed here! Allow to thoroughly  cool before topping with…
Grandma Estep's Cream Cheese Frosting
2 sticks (8 oz) real butter, room temperature
8 ounces (1 small box) cream cheese, room temperature
2 teaspoons vanilla
4 cups powdered sugar
Put butter, cream cheese and vanilla in an over sized bowl and use electric mixer to cream together. Slowly add powdered sugar using mixer. Too fast of a mix speed will create a dusty mess for you to clean up!
Besides using Alaskan Carrots for cake, my family loves roasted carrots with dinner and fresh carrots for snacking. Pam's Carrots out of Palmer is a brand available in grocery stores in Anchorage. If you are looking for a farmer's market near you, there is a statewide Market Directory Map on the Alaska Farmer's Market website.
I had a really big laugh with my family and friends about the dogs getting into the cake. What was I thinking leaving it on the dining table?! Luckily, I had purchased a five pound bag of carrots, so making the second cake was no problem.